Round 2 - Week 1
I know, I know. You're all probably very upset with me since I didn't post the first challenge on time. Well, better late than never right?
The first week's picture will be one of my personal favorite pictures of Gackt. No theme, just use the picture somehow in your icon.
Rules:
[~]Icons due by Friday, November 17th at 3 p.m. EST.
[~]If you wish to skip this week post a comment to this post.
[~]You must use the provided image.
[~]All effects allowed.
[~]Post your icon
and
the URL.
[~]Question? Don't hesitate to ask!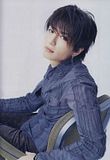 http://i35.photobucket.com/albums/d170/Luseka/arena37cscan138kt.jpg